You are viewing the archive for April, 2010
Market your brand with RCC items at super low prices from Garrett Specialties!
M D T Tote, 18 oz Pacey Sport Bottle, Weaver Jr. Padfolio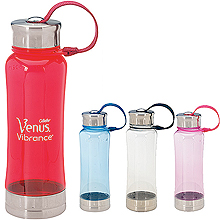 A plant in Denmark burns household garbage 24 hours a day and converts it to heat and electricity. This has greatly reduced energy cost and reliance on gas and oil.
The U.S., however lacks such a clean and efficient waste conversion process. There are no new developments or plans for waste-to-energy plants. 54% of our garbage goes into landfills. Whereas 54% of the garbage in Europe is converted to energy. All of the garbage in our landfills is wasted energy.
This brings me to the significance of Earth Day and living … Continue Reading
Eclipse Global 16oz – Earth design reveals when filled with hot liquid! Use it for Earth Day promotions! A great industry gift for energy, heating, engineering, food, beverage and other services and business. Reveal your brands potential with the Eclipse Global Tumbler!
Rainbow Highlighter – A fun highlighter to hold and share! It's unique shape is attractive and makes you want to get your hands on one. Highlight your brand on one of these creative markers!
Fold-Up Stadium Cushion – A comfortable and easy to carry cushion! A perfect compact seat cushion with a carrying strap. Use this gift … Continue Reading