Jump-start the Holiday Season
An article in USA Today reported the strategies large retailers have developed to manage the affects of today's market on holiday shopping. No matter what kind of business you are in, big or small, product or service, you can use similar strategies along with the use of promotional products to boost consumer spending. Whether holiday shoppers affect your business or not, you can apply these strategies.
The recent letdown by the economy has made holiday shoppers think more about their spending habits. There is no doubt that those shoppers will be bargain hunting and buying less. The shoppers are still out there; they're just making more conscious, smarter decisions.
The one strategy that pertained relevant is "having better promotions". Offer incentives using promotional products to get customers through the door or on the phone.
Promotional Mailers are an effective example of how to offer promotional discounts in effort to increase sales. They are flat, lightweight, and inexpensive. They are a great supplement to direct mail campaigns. Mailers won't add much, if any, to postal cost and they are more interesting than your typical flier ads.
Send a gift with a promotion code that can be used to retain a discount. For example send an @ Symbol Paper Clip attached to a catalog or informational brochure. Have it imprinted with a discount code along with your logo and web address. Customers can then log on to your website and use the discount code at checkout or to print a coupon. You will increase traffic to your website and increase sales.
Give something away if you don't want to offer a discount or, even better, do both. Promotional Tee Shirts are great giveaways. People love getting free t-shirts. Give them when customers spend a certain amount or more, or to the first 100 people that respond to your promotion.
Don't take any chances, plan ahead and start promoting for the holiday season early.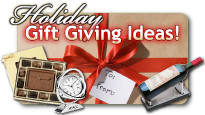 To read the full article mentioned above click here.
Rudee
October 15, 2008
Comments Off

on Jump-start the Holiday Season