Hot Item: Customized Reusable Tote Bag
Reusable Tote Bags are a hot item. They are fashionable, convenient, and more importantly they're Earth Friendly.
Billions of the plastic bags that you receive from grocery stores and retail stores end up in landfills and eventually become toxic. Some large retail stores have stopped providing plastic bags and require you to purchase reusable bags or bring your own. Large cities such as San Francisco have banned them and a few states are considering a ban.
Reusable Shopping Bags are large enough to carry a load that is twice the size the average plastic bag can carry. They are available in attractive colors and prints. These promotional bags are great green products for trade shows, retail stores, schools, and more.
The Jute Shopper's Tote is 100% jute material. Jute is one of the strongest natural fibers and it is biodegradable. The Jute Panel Pocket Tote is also 100% jute material and has stylish wooden button accent.
The Eco-Green Reusable Shopper Bag is made of non-woven recyclable polypropylene and folds up with a snap closure for easy storage. The Value Tote is a quality lightweight canvas tote.
Go Green. Give Reusable Shopping Bags for your next promotion.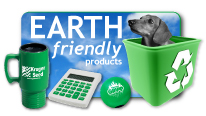 Rudee
October 08, 2008
Comments Off

on Hot Item: Customized Reusable Tote Bag