Promotional Stuffed Animals Proven to Relieve Stress!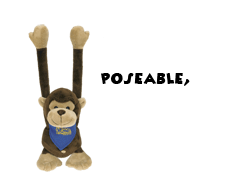 Promotional stuffed animals while increasing brand awareness are proven to relieve stress.
Israeli researchers conducted a study involving children who experienced traumatic stress during war times. Results were published in Pediatrics, January 2008. Small children were given stuffed animals with long legs. They were told that the stuffed toys were sad because they had no one to care for them. The kids cuddled with the stuffed animals and cared for them by wrapping its long legs around their bodies.
After three weeks the children who had grown an attachment to their stuffed critters had decreased or diminished stress levels.
Many service industries use stuffed animals to relieve stress. Hospital emergency rooms, police and fireman use stuffed animals for those reasons. They are also great trade show items that express friendliness and comfort. Use a stuffed animal as a corporate mascot at your next marketing event.
A promotional stuffed animal like the new adorable Monkey Pully Pal-Small gives you that warm and fuzzy feeling. You can pull its arms and legs up and down creating multiple unique fun poses. 12 different pully pal stuffed critters are available. They are guaranteed to bring a smile on your clients face.
Source: PEDIATRICS Vol. 121 No. 1 January 2008, pp. 46-53
Rudee
March 03, 2009
Comments Off

on Promotional Stuffed Animals Proven to Relieve Stress!